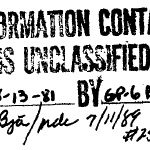 … the dumb goyim will fight while we profit, with the aid of our friend in Washington.
Powerful Jews will be on all Draft Boards, and Jewish physicians will protect you from military service. Arrangements are already made to exempt you, in case religious exemption cannot be prepared in time.
You are warned to renounce, abjure, repudiate and deny any of this information if questioned by Gentiles, even under oath, as outlined in the Talmud and justified for the preservation of our race.
read more